What your employee survey says about working here
In summer 2021, we ran our UK Workplace Study for the fifth time. In simple terms, we run an anonymous employee survey to a random sample of 2,000 people working in the UK, and use the results to get a better sense of what 'others' (i.e. not our clients) experience and feel about their work.
The data contributes to our employee survey benchmark data, so when we look at an organisation's results for the first time – we can see how this compares to the 'average' response. Some questions and measures score naturally high, and this data isn't skewed by who we work with or our clients from a particular sector.
The big picture
Overall, how satisfied are you with your organisation as a place to work?
1 in 4 (25%) of respondents answered very satisfied
Nearly half (46%) answered somewhat satisfied
This is very slightly up on 2018. Most questions and statements are slightly better or about the same as in 2018.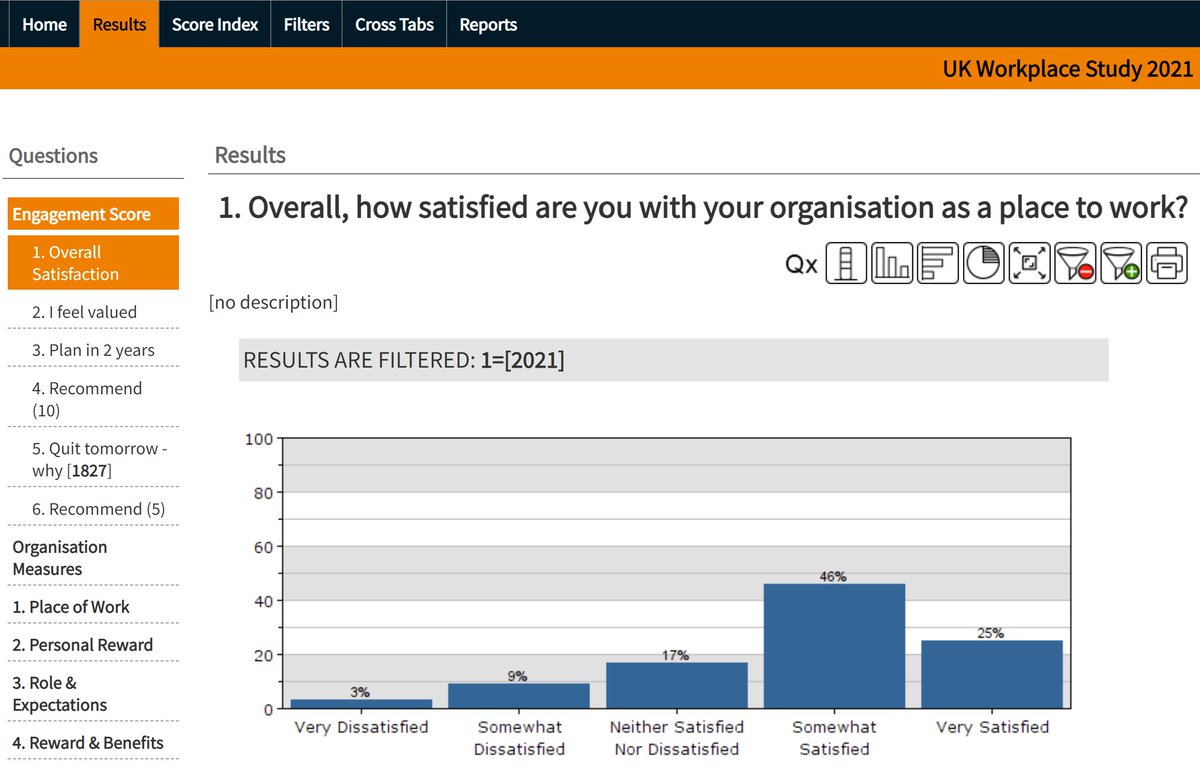 I plan to be working for my employer in two years' time
1/3 strongly agree and 1/3 somewhat agree
This varies a lot between different demographics, for example age, how long you've been there, managers vs no staff responsibility.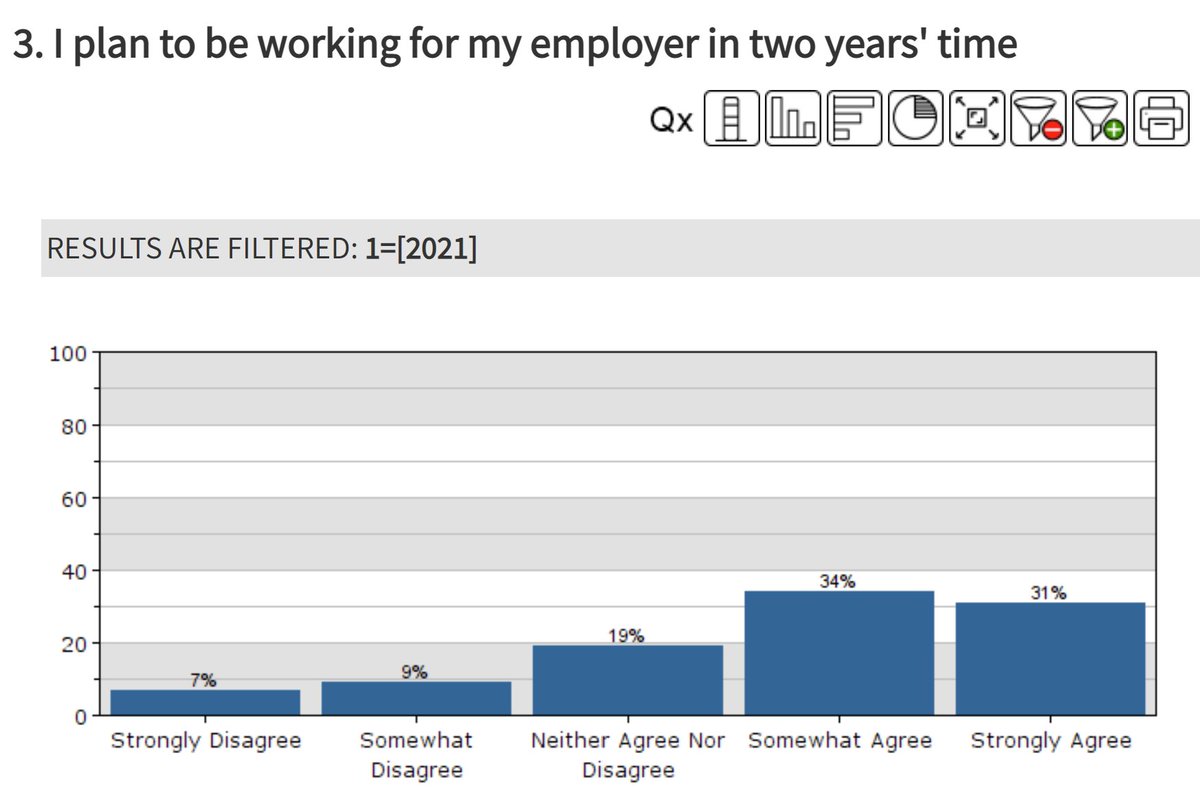 How likely would you be to recommend working for your Organisation to a friend or relative?
24% definitely would recommend
The answer is almost the same as in 2018 (and for that matter 2015)
We ask this question twice in the survey – also using the 0-10 scale for NetPromoter Score. The NPS for likelihood to recommend working [here] is -6.4
In 2018 it was -13.7
(I'm not a big fan of NetPromoter in employee surveys, maybe that's a post for another time)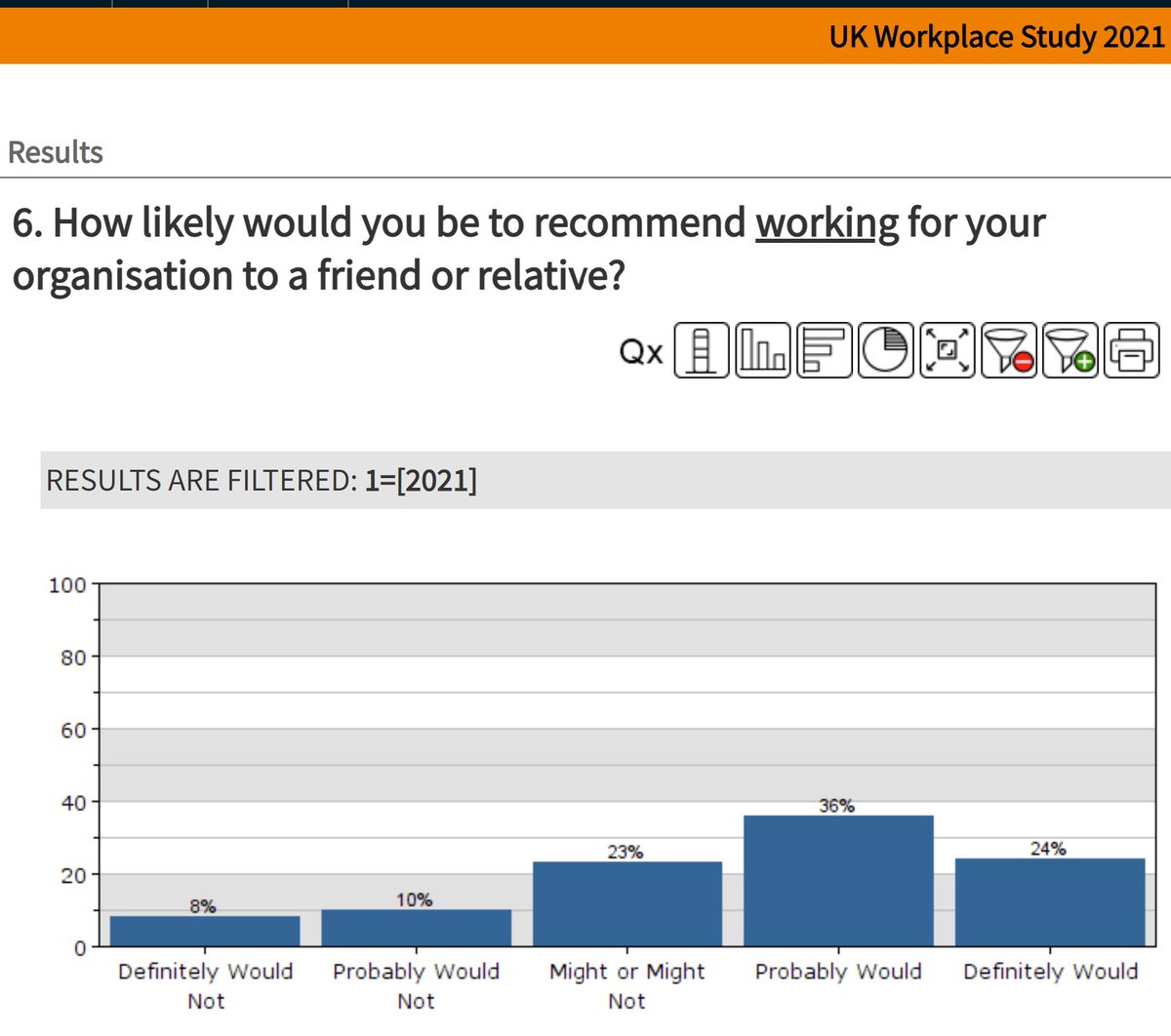 Views around the leadership of the Organisation and senior management overall saw the most improvement vs 2018.
The statement The senior managers do a good job explaining the reasons behind important decisions is a new question we started using during the first lockdown in 2020. Alongside this we saw visibility, listening and trust increase (small movements but significant).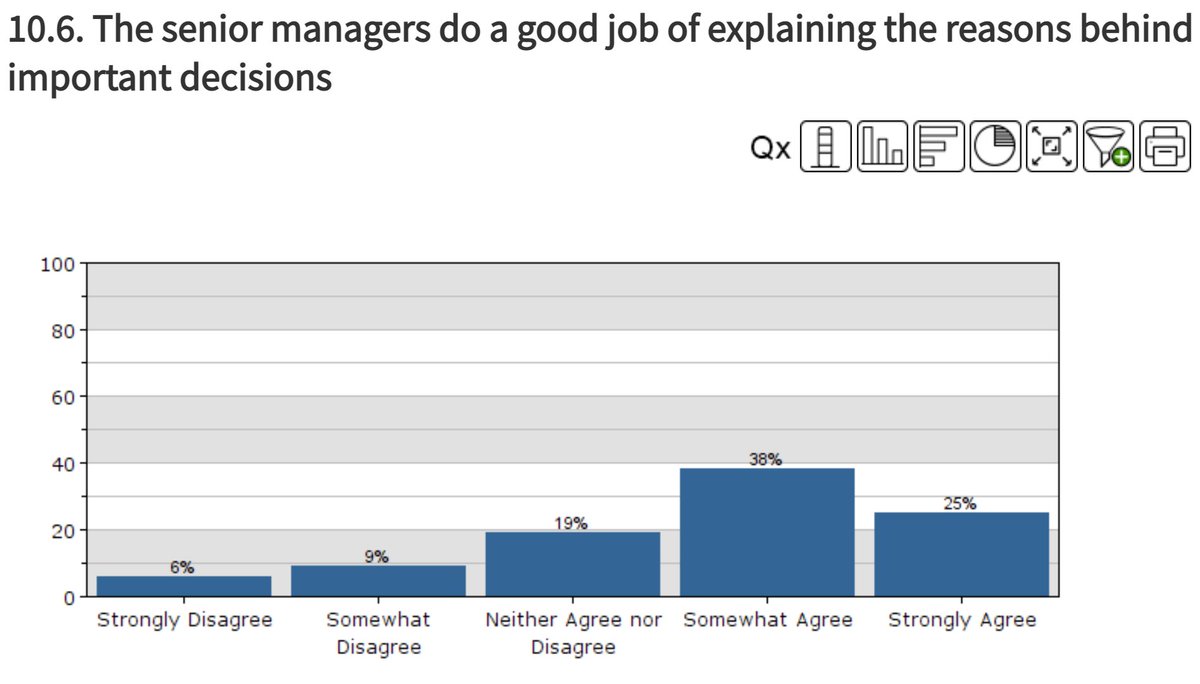 Normally, we convert most questions' results into scores (each answer is assigned a value between 0 and 100, the score is the average). We then run other analysis against the scores. The 2 lowest scores in the UK Workplace Study are:
Good performance is rewarded in terms of pay rises and/or bonuses
There are opportunities for me to develop my career here
We frequently see these statements amongst the lowest scoring statements in an organisation's employee survey (and if pay doesn't feature then something else will really be standing out instead). What is most important though will differ between organisations, where people are and the roles they perform. These differences might also be found across the Organisation itself, for example office based staff compared to field engineers, or clinical staff and admin.
More information
Have questions? Contact us – we're here to help.